AFS.Hemp™
Organic Broad-Spectrum Hemp.
If confidence comes with compliance, you can have certainty working with AFS.Hemp™. For over 20 years, Applied Food Sciences has supplied the world's largest food and supplement companies with high-quality ingredients. We know what is at stake and will provide you with transparent documentation to ensure that you and your partners have a safe, legal path to working with hemp. AFS.Hemp™ is a USDA Certified Organic "broad-spectrum" hemp with less than 0.0% THC. Furthermore, our hemp is one of the only CBD-containing ingredients to be Generally Recognized As Safe (GRAS), an important determination for approved intended uses in U.S. food and beverages.
Key Benefits
Less than 0.0% THC [known as "Broad-Spectrum"]
GRAS for approved safe use in US food & beverages
Reliable supply chain of certified non-narcotic hemp
CO2 extraction – No residual solvents
AFS has over 20 years experience developing food ingredients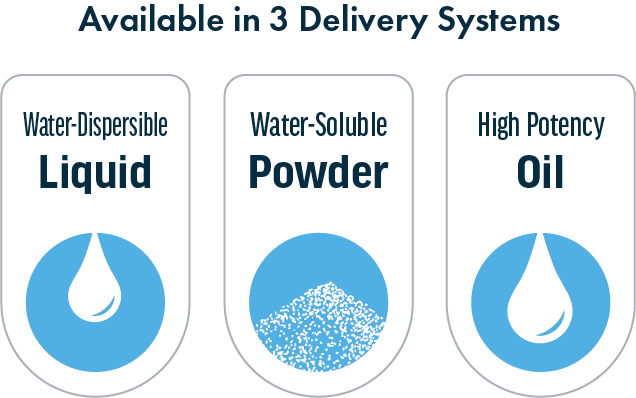 Key Benefits
Water-Dispersible Oil
The water-dispersible oil is ideal for all liquid applications. Paired with AFS' proprietary herb-emulsification technology customers can get a targeted level of phytocannabinoids while keeping a neutral taste profile and a clear appearance.
Water-Soluble Powder
The water-soluble powder is ideal for any dry applications like stick packs, bulk powders, sachets, drink mixes, and effervescent tablets. The effortless mixability allows for a very clean application in beverages and foods.
High-Potency Oil
The higher potency oil is for max performance with minimal loading in supplements, tinctures, soft gels, topicals, and other nutritional products that do not have the same solubility requirements.
*The cost per serving of active CBD is the same across all three ingredients.
GRAS for Approved Use in Food & Beverages
"GRAS" is an acronym for Generally Recognized As Safe and is required by the FDA. Any ingredient that is intentionally added to food and beverages must be an approved food additive or recognized, among qualified experts, as having been adequately shown to be safe under the conditions of its intended use.
Applied Food Sciences has taken the proper steps to get AFS.Hemp™ generally recognized as safe (GRAS) among qualified experts under the conditions of its intended use in food and beverages.
Supplying Certified Hemp vs. Hemp Hybrids
All manufacturers of hemp products should be aware that in October of 2019 the U.S. Department of Agriculture released its interim final rules for regulating hemp production. This ruling comes as a follow up for the passage of the 2018 Farm Bill, which nationally legalized hemp production. It also exposes some serious concerns about how much of the current hemp supply is using hybrid strains of hemp with greater than 0.3% THC.
The most significant piece in the new rules is the sampling procedures that require law enforcement agencies to collect samples of hemp from each operation 15 days prior to harvest and have them tested in a lab registered by the U.S. Drug Enforcement Agency (DEA). Should any hemp be found to have a concentration of THC higher than 0.3%, the new rules stipulate that the material must be destroyed by an authorized agency such as the DEA.
AFS.Hemp™ uses only certified strains of hemp that are sourced from verified EU seed banks and guaranteed to contain less than 0.3% THC. Even in cases where the THC content is removed during extraction, like with AFS.Hemp™, all hemp ingredients must still be grown in compliance with the new rule and contain less than 0.3% THC prior to harvest.
Broad-Spectrum over CBD Isolates
Research is quickly catching up to the tremendous benefits of the Endocannabinoid System (ECS) in supporting normal: brain health, immune function, a healthy inflammatory response GI health, fertility, bone health, and more.
When it comes to the benefits of using phytocannabinoids, cannabidiol or CBD is the most notable active compound in hemp. However, more than 80 other phytocannabinoids are in hemp, and they all play an essential role in supporting the ECS.
So while CBD isolates contain only a distillate of cannabidiol (CBD), all the other beneficial plant matter contained in the hemp plant is removed during the extraction process. Beyond the convincingly undermined efficacy, there are additional regulatory concerns with using CBD isolates. Distilling hemp to a single chemical compound changes it drastically from its naturally derived state, which may be cause for regulatory concern. Additionally, isolates may be more vulnerable to synthetic adulteration.
On the other hand, both broad-spectrum and full-spectrum hemp extracts preserve the naturally-occurring phytocannabinoids found within the plant. While there is research showing that trace amounts of THC can help the Endocannabinoid System for an improved 'entourage effect,' AFS.Hemp™ is broad-spectrum, meaning that it has 0.0% THC or below detectable levels of THC as verified by High Performance Liquid Chromatography (HPLC) or by AOAC validated methods.
AFS.Hemp™ allows for a broad-spectrum entourage of cannabinoids content, not just CBD alone. AFS.Hemp™ uses a supercritical CO2 extraction method, ensuring there are no residual solvents and that the ingredient contains a panoramic entourage of phytocannabinoids. Verified using a Chromatogram, AFS.Hemp™ does not just contain CBD but also includes CBDV, CBG, CBC, CBE, CBA, terpenes, canflavins and other beneficial compounds.
The AFS Advantage
Applied Food Sciences (AFS) has been in the food and nutrition ingredient industry for over 20 years. AFS understands what it takes to put an ingredient in a food, a beverage, as well as a nutritional supplement. Many product manufacturers wanted to expand their portfolio to include hemp, but there are significant quality and regulatory hurdles in doing so. The benefits of working with AFS start at the regulatory level with a GRAS determination that allows for the usage of AFS.Hemp™ ingredients for specific food and beverage applications.
AFS.Hemp™ is manufactured in a FSMA-certified production facility which adds legitimacy to manufacturing for a food and beverage ingredient. In addition, NSF certification assures suppliers, retailers, regulators and consumers that an independent organization has reviewed the product's manufacturing process and determined that the product complies with specific standards for safety, quality, sustainability or performance.
Tell us about you next project.
Think our premium ingredients are a right fit for your next formulation? Submit an inquiry to chat with our team. We are here to answer your questions.
Applied Food Sciences is a supplier and wholesaler of bulk organic, functional ingredients for the natural products industry. AFS manufactures its specialty botanical extracts for use in food, beverages, pharmaceuticals, and nutritional supplements. Whether you are seeking extracts, powders, or concentrates, you can rest assured that, with over 20 years of experience, AFS can support your project needs.
*Please be aware that for hemp ingredients we may request payments are made through ACH and/or checks only.