Most of us can't help but occasionally surrender to the addictive convenience of grabbing a crinkly bag off the snack aisle. If you are like 95% of Americans, who snack at least once a day, you will likely have had the delight of trying the puffy, crunchy, airy treats known as extruded snacks – think Cheetos, Pirate's Booty, Veggie Straws, Cereal, and more [1].
Extrusion is a food processing method used to make ready-to-eat 'puffed' or 'expanded' snacks. The process involves using specialized equipment to apply heat, pressure, and shear forces to combine ingredients and create fun shapes, textures, and flavors. The global market for extruded snacks hit approximately $52 billion at the close of last year and is projected to escalate to $78 billion by 2030 [2].
One of the fastest-growing segments within extruded foods caters to 'health-conscious snackers,' 84% of whom believe that snacks should cater to a broader range of nutritional needs [3]. However, those involved in snack manufacturing know the complex challenges of finding the right ingredients that can make better-for-you snacks and handle the extrusion process.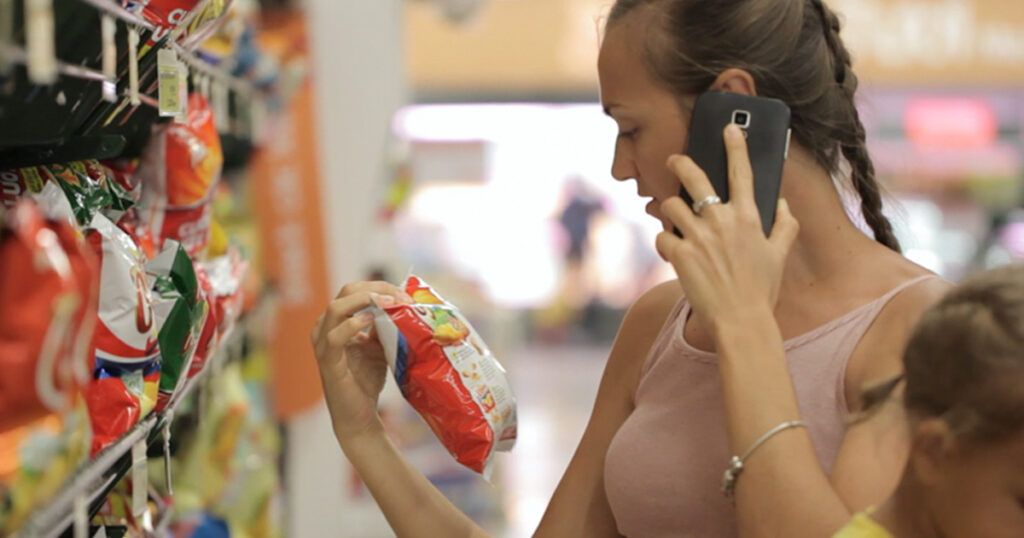 "When selecting snacks, consumers are paying close attention to nutritional statements," explains Ozan Kahraman, R&D Food Process Engineer at Applied Food Sciences. "Shoppers are seeking 'free-from' claims like grain-free, gluten-free, GMO-free, plant-based/vegan (animal-free), and allergen-free. Additionally, they are interested in snacks that have added protein, fiber, and other nutrients, which can make it difficult to choose the right ingredients. Fortunately, newer ingredients, such as hemp protein, that are compatible with many of these buttons are emerging and can be used to enhance product formulations."
The ABCs of Expanding Snacks
Puffed snacks are undoubtedly the most fun snacks to eat. But mastering the light, airy, craveable crunch requires a specialized approach. The intricate extrusion process involves heat, pressure, and changes in directional shear forces to combine ingredients and create an extrudate. Successful snacks achieve the right balance of starches, fiber, moisture, and proteins that produce the fun puffy shapes and flavorful textures we enjoy.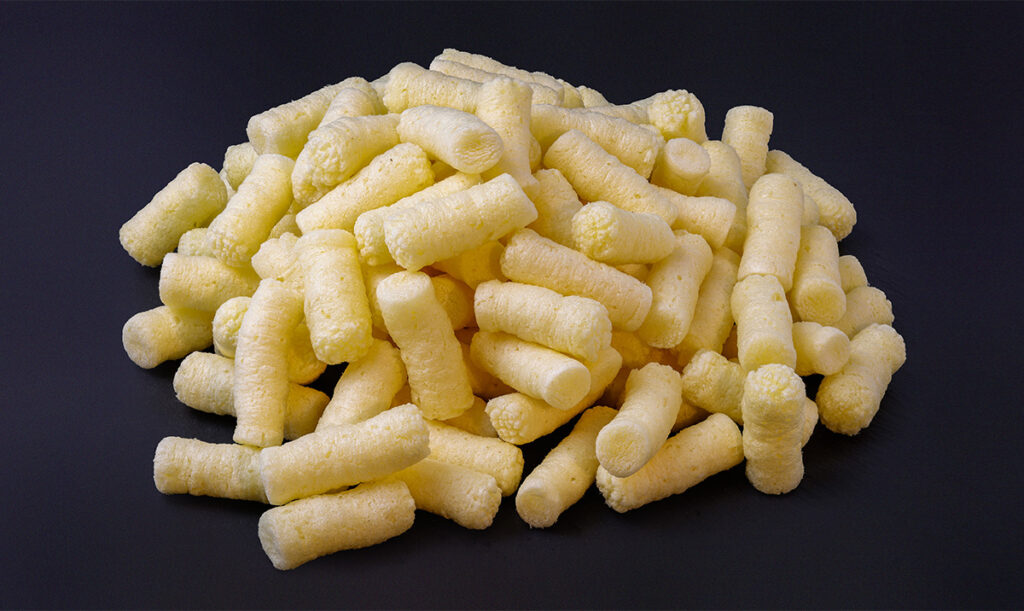 Extruded products can be light with delicate, homogenous textures or more firm with less expanded consistencies. Several qualitative characteristics determine these desired outcomes. Starch provides the underlying structure. When combined with a lower fiber concentration, it makes for lighter, puffier snacks. A higher fiber concentration impedes expansion, making for more dense snacks. Hydration properties like water-oil holding capacities and gelation are particularly essential for predicting the behaviors of an extruded matrix. Macromolecular substances, like starch, protein, and lipids, may also undergo structural changes in response to variations in moisture content during this process. Lastly, protein is also responsible for much of the structural integrity and texture of the finished product. However, the extrusion process can disrupt proteins when subjected to pressure and temperature changes. Therefore, it is important to recognize that having the proper ingredient pairings is critical for success.
Soybean, wheat, and pea are the three most often utilized raw ingredients in food extrusion. These plant-based raw materials can be used in the form of flour, concentrates, and isolates. They are high in protein and can be added to starch-based goods like cereals and snacks to improve their protein content and enhance their texture. Yet, while these popular ingredients may support the formulation of extruded snacks, they also include well-known allergens in gluten or soy that go against the free-from trend that is filling up the snack aisle. Consequently, manufacturers are seeking alternative ingredient solutions to support the complex challenges of making extruded snacks.
Finding a Gluten-Free, Keto-Friendly Alternative
Food allergies and other hypersensitivities impact millions of American families. Because of this, the FDA has implemented regulations to safeguard individuals with food allergies with detailed labeling requirements. The mandate stipulates that all "major food allergens" must be labeled with the name of the allergen source. The law identified nine major food allergens: milk, eggs, fish, Crustacean shellfish, tree nuts, peanuts, wheat, sesame, and soybeans [4]. Therefore, extruded manufacturers are searching for allergen-free and healthier snack ingredients, leading to the exploration of hemp seed protein and other plant-based proteins as alternatives. These ingredients have gained significant attention in recent times.
Hemp protein is an increasingly popular alternative to soy protein, boasting low allergen content, similar amino acid properties, and superior digestibility ratings. Furthermore, its unique functional properties, such as the ability to gel, bind water, and add texture to foods, make it an ideal ingredient for developing extruded snacks. Research and development teams should strongly consider including hemp seed protein in their products.
Making (Even Better) Better-For-You Extruded Snacks With Hemp Hearts
Formulating extruded snacks is complicated, and the ingredients used can significantly impact the final product's quality. It can also be particularly challenging, especially when using alternative proteins to soy and wheat/gluten. Applied Food Sciences recently introduced a new ingredient called PurHP-75™ organic hemp seed protein, which can replace other types of proteins or flours in extrusion. By dehulling the hemp seed shell, which contains bitter tannins and green pigments, and only processing the white inner 'hemp heart,' PurHP-75™ delivers a neutral flavor, smooth texture, and white color. Due to the lack of sensory impact, this profile can support a wide variety of extruded snacks, from sweet breakfast cereals to savory cheese puffs.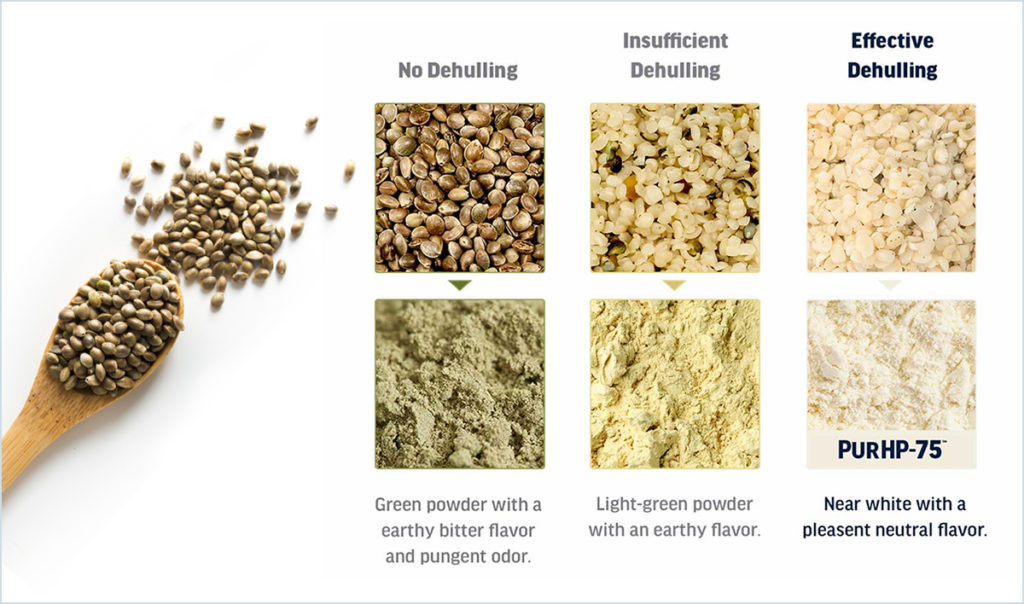 PurHP-75™, with its greater than 50% water and oil holding capacities, emulsifying activity, fine particle size, good bulk density, and neutral taste, works particularly well in plant-based extruded snack applications. These properties allow it to interact and blend with other ingredients, produce a uniform desired texture (hardness, crunchiness, crispness, etc.), and provide proper stability. PurHP-75™ can further strengthen the structure of extruded products by making the micropores in the network compact and homogeneous.
Another benefit of PurHP-75™ is its ability to improve a snack's nutritional profile. It is a rich source of essential fatty acids, vitamins, minerals, and all nine essential amino acids. It also has a high protein (75%) and fiber (6%) content, all of which can enhance the nutritional value of the final product. This is particularly important in today's health-conscious society, with increasing demand for nutritious snacks and other ready-to-eat foods.
PurHP-75™ organic hemp seed protein is a gluten-free, dairy-free alternative that can support many product applications, from baked goods and snacks to alternative meats and non-dairy solutions. With its help, formulators of any volume will have new opportunities to make delicious extruded snacks while supporting more 'free-from' claims on packaging. 
---
References:
Mintel. "Snacking Motivations and Attitudes." 2022
Global Extruded Snacks Market Size By Product (Wheat, Potato, Corn), By Application (Hypermarkets and Supermarkets, Independent Retailers, Convenience Stores), By Geographic Scope And Forecast Report ID: 16617 | Published Date: Nov 2022 | No. of Pages: 202 | Base Year for Estimate: 2022
Mondelez International's Fourth Annual State of Snacking Report. Jan 2023
U.S. Food & Drug Administration (FDA) Food Allergen Labeling and Consumer Protection Act (FALCPA). 2023