PurTurmeric™

 Organic Turmeric Powder
When 80% of our human connection is through the eyes, your product's color is critical. PurTurmeric brightens the food experience with vibrant golden-orange color and on-trend flavor. Solubility is essential when formulating with organic turmeric. And PurTurmeric is the cleanest, most water-soluble powdered turmeric of its kind. Whether you're developing a brilliant colored beverage, functional food, or nutritional supplement, you will appreciate the ease and consistency of PurTurmeric. Now is the time to work with this functional, aromatic flavor. It is a must-try!
Key Benefits
Brilliant golden-orange color
On-trend flavor
USDA Organic Certified
Non-GMO Project Verified
Sustainably sourced
Formulation Benefits
Highly water-soluble
Dried powder extract
Shelf-stable for two years
Microbial free
PurTurmeric brightens the food experience with vibrant golden-orange color and functional, aromatic flavor!
Target Applications
PurTurmeric is ideal for beverage, functional foods, and nutritional supplements where solubility is a must. 
Tell us about your next project.
Think our premium ingredients are a right fit for your next formulation? Submit an inquiry to chat with our team. We are here to answer your questions.
Applied Food Sciences is a supplier and wholesaler of bulk organic, functional ingredients for the natural products industry. AFS manufactures its specialty botanical extracts for use in food, beverages, pharmaceuticals, and nutritional supplements. Whether you are seeking extracts, powders, or concentrates, you can rest assured that, with over 20 years of experience, AFS can support your project needs.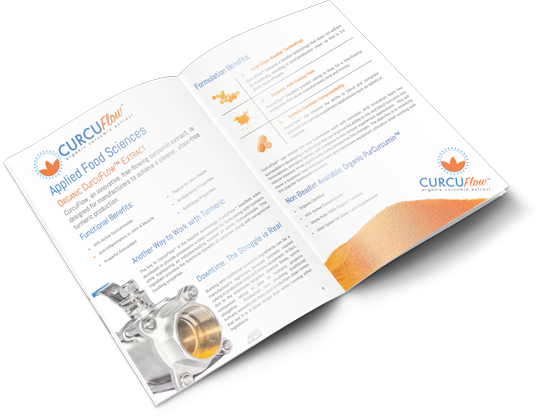 PDF Contents
Value Added Turmeric Technology
Learn more about how Applied Food Sciences (AFS), the leader in functional ingredients within the natural products industry, is designing value-added turmeric extracts for beverages and supplement manufacturing.
CleanStream™, an innovative, free-flowing curcumin extract, is designed for manufacturers to achieve a cleaner, stain-free turmeric production.
PurTurmeric™ Organic Turmeric Extract
An innovative, superior quality turmeric extract that yields a complex flavor and full solubility for simple formulation.