Protein plays a substantial role in baked goods. Beyond adding nutritional value, protein conditions dough, provides structure, retains moisture, and enhances texture. Therefore, as plant-based ingredients take the place of traditional animal proteins, formulation expectations must continue to evolve.
The opportunity for plant-based protein in baked goods is undeniable. Grocery sales of plant-based foods that directly replace animal products grew to over $7 billion in the past year [SPINS retail sales data, April 6, 2021]. The astonishing 27% growth is a testament to the innovation in this space. However, new ingredients must emerge in this growing category for plant proteins to sustain this trend and support more diverse product applications. Hemp seed protein is one of the emerging ingredients in this space and looks to be a perfect fit for baked goods.
Understanding the Recipe for Success
Let's appreciate the chemistry of baking for a moment. Proteins work with starches, fats, sugars, and leavening agents, to perform a delicate balancing act responsible for the result. Plant protein will undoubtedly influence the end product's texture, taste, and appearance differently from animal proteins such as casein, whey, and eggs. So whether a baked good is a bar, pancake, extruded snack, or tortilla, it is important to recognize that plant-based ingredients have some notable hurdles to overcome.
The best baked goods rely on the precise combination of flour, liquid, leavening agents, fats, sugars, and flavors. Each ingredient provides its own important function [Larsen, Linda. The Science Behind Common Baking Ingredients. November 2019].
Flour Provides the Recipe Foundation
Fat Holds it All Together
Sugar Is Sweet and Helps Tenderize
Eggs Add Texture
Liquids Add Leavening and Tenderness
Salt Adds Flavor and Weight
Leavening Agents Baking Soda and Baking Powder
But how do these functions change with the nuances of keto-driven, plant-based diets? Ozan Kahraman, R&D Food Process Engineer with Applied Food Sciences (AFS), explains.
"Casein, whey, and egg proteins are exceptional at enhancing viscosity and stabilization in various food matrixes," states Ozan. "Therefore, some of the most formidable challenges food manufacturers face when replacing egg and dairy-based proteins with plant-based ingredients include the loss of these structural properties, which are crucial for baking applications. In addition, the foaming capabilities of proteins also carry high importance for bakery products. But perhaps the most common problems that food manufacturers and formulators face using plant proteins are off-flavors, unsatisfactory pigment, and undesirable mouthfeel in finished products."

But what is the solution? Many plant protein ingredients take a common approach to isolate only the protein, removing much of the other functional compounds to mitigate these undesired sensory characteristics. Unfortunately, while it may help with flavor and texture, isolating protein nullifies much of the attraction of being "plant-based." Nutritional attributes like fiber, antioxidants, and fatty acids are not only good for our health, but they also can serve as critical functional benefits in baking. Fortunately, ingredient technologies are advancing at a rapid pace, and new ingredient options are available today that solve these historic challenges. Hemp grain protein (from hemp seed) is one of the most promising emerging ingredients in this space.
New Ingredients: Organic Hemp Seed Protein
Hemp seeds are a nutritional powerhouse. A superior fatty acid profile is unique to hemp seeds, as is its high-quality makeup of digestible edestin and albumin protein. Unlike many protein isolates, hemp seeds net a concentrated protein that includes a healthy amount of dietary fibers (more than 8%) and a large spectrum of valuable fatty acids with a beneficial balance ratio between omega-6 and omega-3. They are especially rich in arginine (14.5%) and glutamic acid (17.9%). Hemp seeds also contain all nine essential amino acids, antioxidants, and mineral content. Not only is the nutritional profile prominent, but the functional properties of hemp seed, such as foaming, emulsifying, and gelling, make hemp protein a fantastic ingredient that can support a diverse range of baking applications.
Sensory characteristics have been the main impediment to hemp seed's adoption in the market thus far. But by removing the outer shell of the hemp seed – which contains a majority of the bitter, green tannins, and only processing the white inner 'hemp heart' it makes a world of difference on the sensory experience. Ingredient manufacturer Applied Food Sciences delivers this in their dehulled hemp seed protein: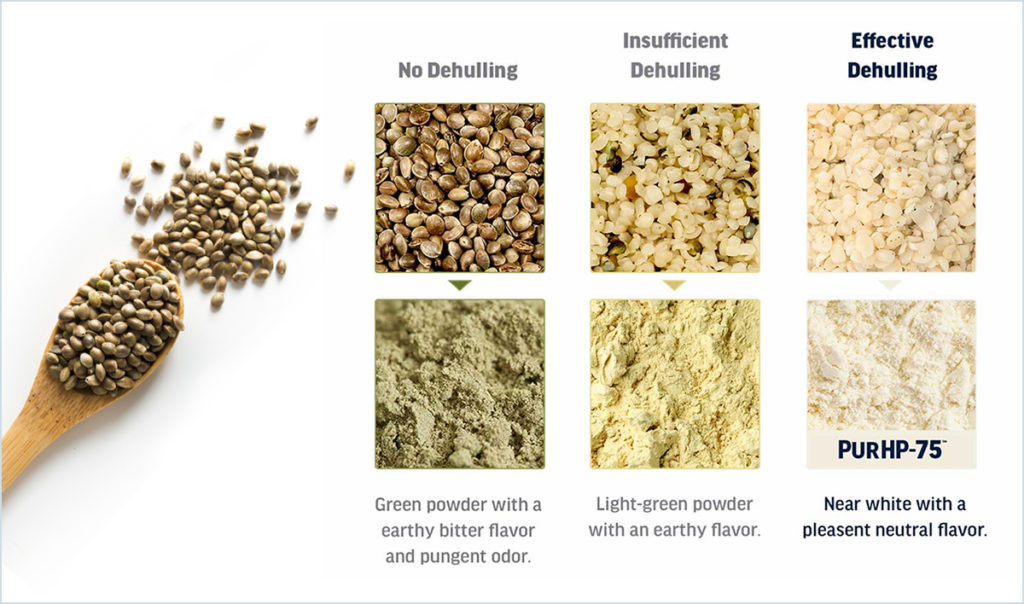 With PurHP-75™, food manufacturers can benefit from the nutrition of hemp protein in a clean presentation that is white in color, neutral in flavor, and has a perfectly smooth texture for baking applications.
Hemp seeds contain more protein wt/wt than almonds, chia, or flax seeds. In addition, hemp seeds include minerals necessary for our health like vitamin E, vitamins B1 and B6, iron, magnesium, zinc, potassium, and more. Some minerals can be hard to obtain on a plant-based diet making hemp an attractive ingredient option for plant-based foods.
---
About Applied Food Sciences
For over 20 years, Applied Food Sciences has manufactured functional ingredients for the natural products industry. PurHP-75™ is the latest example of the company's innovative and on-trend products. If you are developing a plant-based food, more information can be found on the company website (https://appliedfoods.com), including a form you can fill out to request samples.